Efforts for Environmental Protection
Harima Chemicals Group endeavors to accurately monitor environmental impacts imposed by business activities through material procurement, production, disposal and recycling.
Environmental Load Flow Chart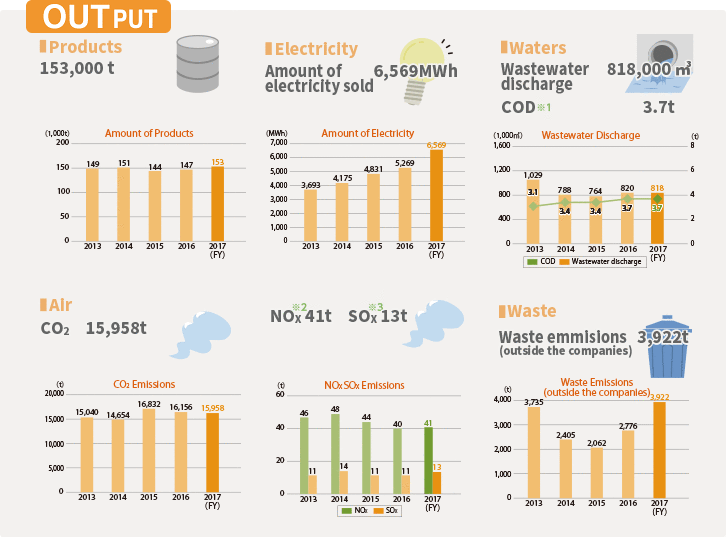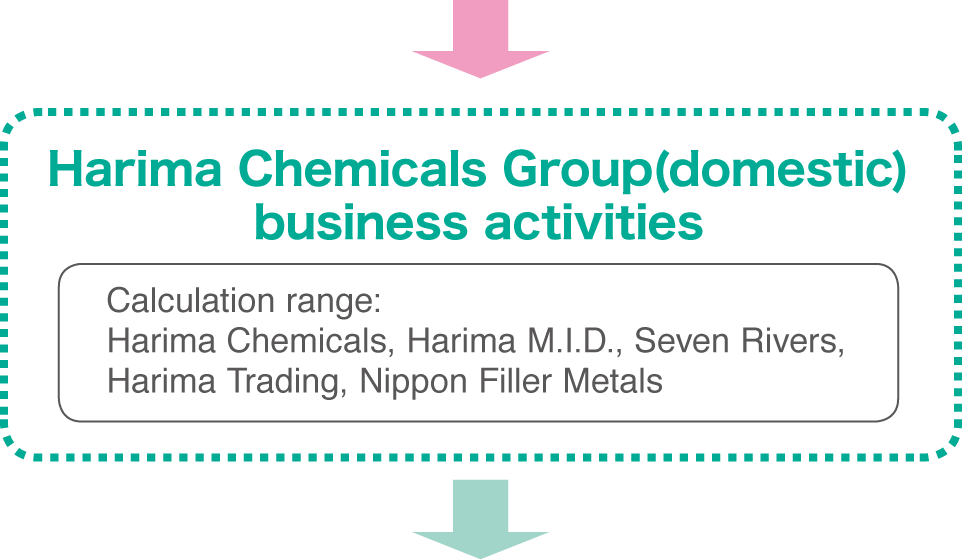 Note: For calculation of amounts of energy and CO2, the aggregate calculation method was changed in fiscal year 2016.
*1

COD: Chemical Oxygen Demand. The amount of oxygen necessary to chemically oxidize and stabilize contaminants in water. Higher values indicate more contamination.

*2

NOx: A nitrogen oxide in exhaust gas generated from boilers, incinerators, etc. NOx causes photochemical reactions by ultraviolet rays, producing photochemical oxidants.

*3

SOx: A sulfur oxide in exhaust gas generated from boilers, incinerators, etc. SOx is one cause of acid rain.
Reduction of Environmental Load Substances
Fuel Use
In fiscal year 2017, the amount of biomass*1 used increased compared with fiscal year 2016 because of the increase in production volume. In contrast, the amount of fossil fuel used decreased because the amount of kerosene used decreased in boilers other than biomass power generating facilities.
Fuel conversion to natural gas will be promoted, and thorough energy saving activities will be tackled for the continuous reduction of the substances of concern.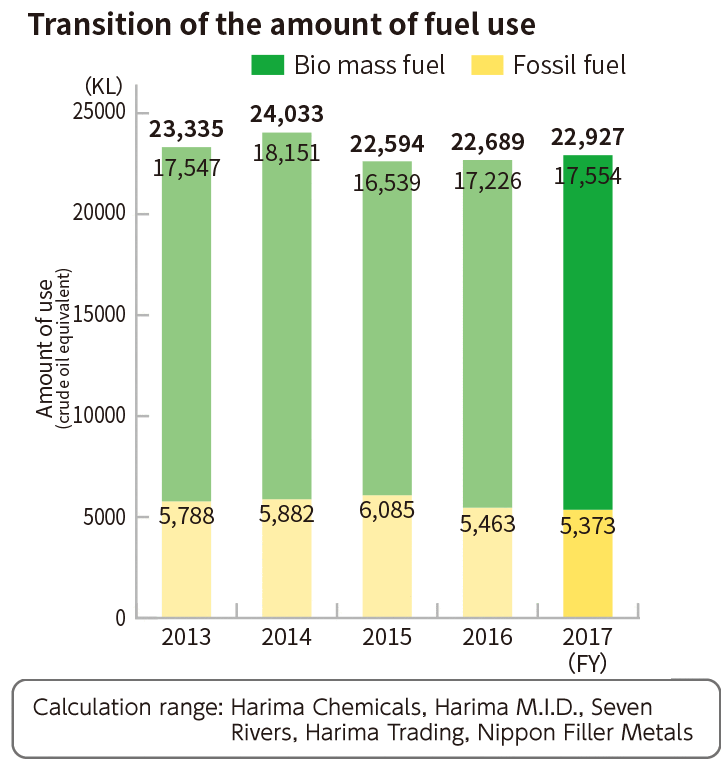 *1

Biomass: A concept expressing mass of bio (biological resources), which means the organic resources of biological origin, other than fossil resources.
NOx and SOx Emissions / COD Values
In fiscal year 2017, the amounts of both NOx and SOx generated were slightly increased compared with fiscal year 2016 because of the increase in boiler operation owing to the increase in production volume. Drainage volume was slightly decreased, and the amount of COD was the same as fiscal year 2016. We will strengthen the surveillance of NOx, SOx, and COD to implement measures such as process improvement for reduction of the environmental load.
Waste Reduction
As one of the efforts to form a recycling society, we are trying to manage the reduction in waste materials and to promote and appropriately manage recycling.
Breakdown and Transition of the Amount of Waste
FY2017 Flow and Outcome of Waste
Calculation range: Harima Chemicals and Harima M.I.D.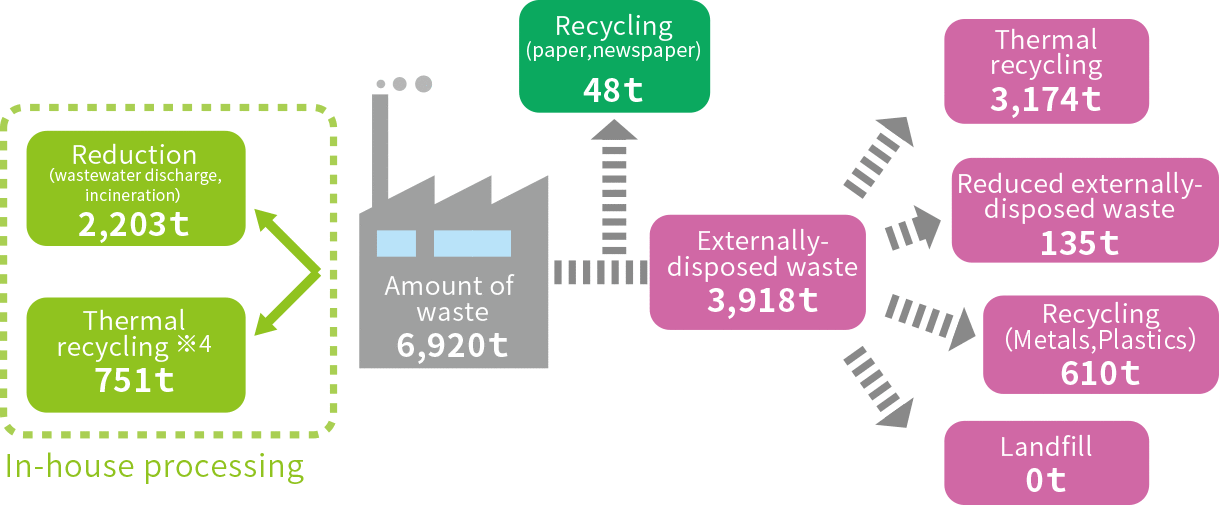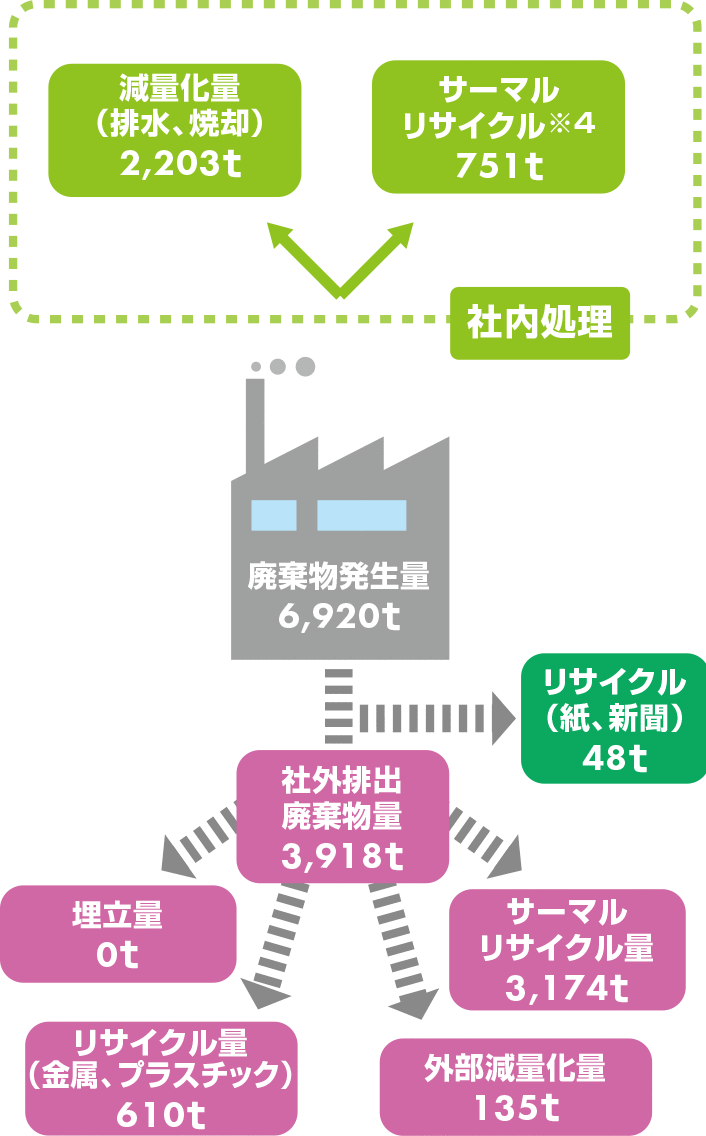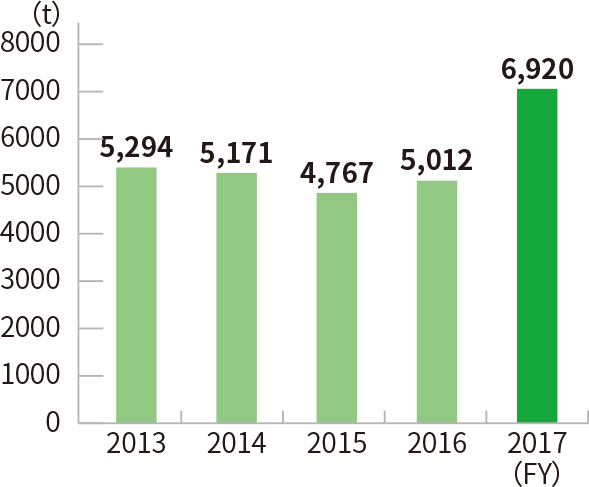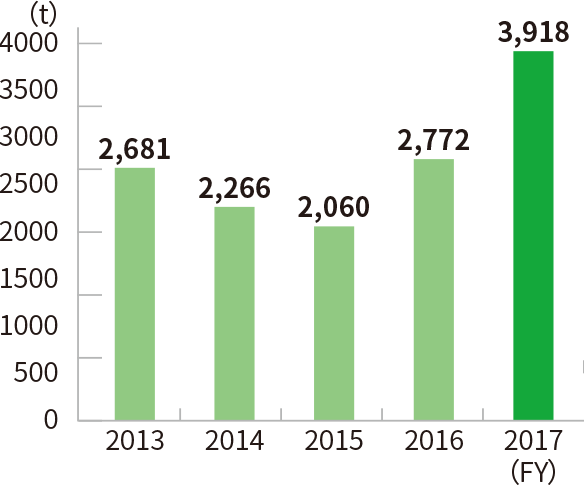 Zero Emissions*2
Zero Emissions Continued
In the past, the final landfill rate was shifting around 2% or higher.
Most of the waste sent to landfill was the incinerated ash from biomass fuels*3 since it contains a high ratio of Na and K. However, after many discussions and studies, we have been able to use the ash for producing cement since FY2005. We achieved the final disposal rate of 1% or lower in FY2006 and our zero emissions have been solid since.
In FY2010, recycling of our waste glass became possible, and as we continued reducing our waste, the amount of waste sent to landfill reached zero in FY2011.
We will continue reducing final landfill disposal volume to zero.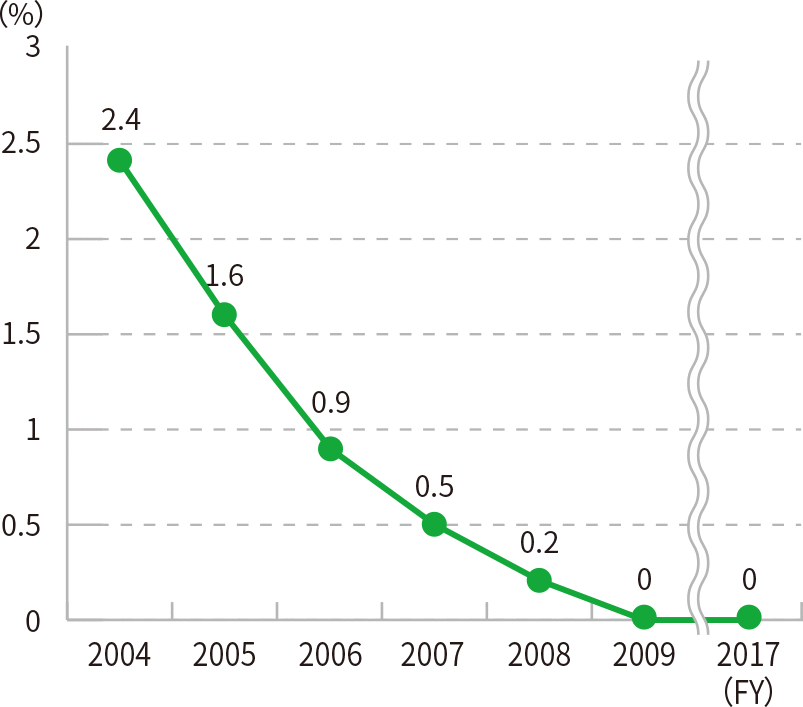 Calculation range: Harima Chemicals and Harima M.I.D.
Participation in the container recycling program
Harimatec Czech, s.r.o.
In light of the adoption of EU Packaging and Packaging Waste Directive,*4 each member country is preparing internal regulations to establish an agency to collect and recycle packaging and packing waste.
In compliance with Czech's Recycling Act, Harimatec Czech has signed a contract with a government-authorized recycling management company EKO-KOM for its system.
The Act requires a company that purchases packaging in which products are filled, and sells/distributes the products in the Czech Republic to cover the recycling costs of waste packaging. In order to promote the recovery of waste packing, it is necessary to join EKOKOM system and make a quarterly payment for the costs according to the quantity of waste packaging.
Harimatec Czech actively participates in activities that increase the recycling rate of waste packaging.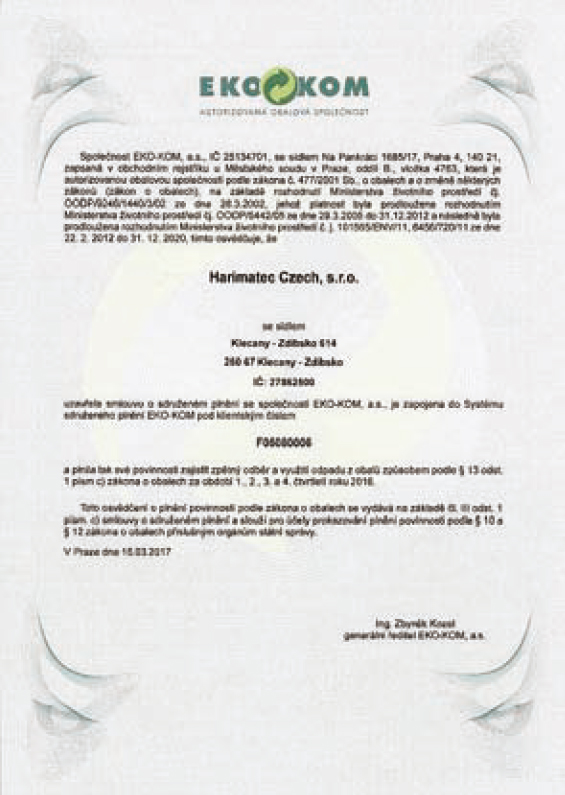 *1

Thermal Recycling: Collecting and utilizing thermal energy generated during incineration instead of performing mere incineration and disposal of waste.

*2

Zero emissions: The tall oil byproduct, which is the fuel for biomass boilers, contains acid decomposition of soap due to its manufacturing process. Since this byproduct contains a large amount of sodium sulfate (the ash content of approximately 1%), it used to be sent to landfill without being recycled for cement.

*3

Incinerated ash generated by a biomass boiler: Political and economic partnership based on the Treaty on European Union. EU promotes cooperation of 28 member countries in a wide range of areas including the Economic and Monetary Union, the Common Foreign and Security Policy, and the Police and Judicial Cooperation in Criminal Matters.

*4

Packaging and Packaging Waste Directive: 1994 EU Directive (94/62/EC) defines the recovery and recycling of waste containers and packaging. Its objective is to harmonize the policies on waste containers and packaging management individually implemented in each member country while increasing the level of environmental conservation by a setting recycling rate as a goal to be achieved.