Environmental Management
Harima Chemicals Group, Inc. has been expanding its environmental management system under its environmental policy and based on ISO14001.
Each department and section sets annual goals following the company's objectives and goals to continuously reduce environmental loads and implement environmental conservation activities.
Environmental Goals and Achievements
We prepare mid-term environmental goals for each theme (currently FY2020 Environmental Goals), set specific annual objectives and promote efforts to achieve the goals.
FY2016 Achievements and the Mid-term Environmental Goals (FY2020 Environmental Goals)
Evaluation Criteria ◎: Achieved ○: Partially achieved △: Ongoing efforts; not achieved ☓: Efforts not sufficient
Theme
FY2016 Goals
FY2016 Achievements
Decision
FY2020 Goals
Prevention of Global Warming
Reduction of electricity consumption by 1% compared to the year before(intensity-base)
Intensity: Increase by 1.6%
☓
Reduction of energy intensity by 1% per year
Reduction of fuel consumption by 1% compared to the year before(intensity-base)
Intensity: Reduction by 3.9%
◎
Reduction of CO2 emission by 2% compared to the year before
CO2 emission: Reduction by 7.9%
◎
Reduction of CO2 emission by 25% from 1990 level
Reduction of energy consumption by 1% compared to the year before(intensity-base)
Intensity: Increase by 4.7%
☓
Effective use of resources
Reduction of the amount of waste generation by 4%
Amount of generation: Increase by 4.6%
☓
Continue zero final landfill
Continuation of zero-emission* (0.0%)
Achievement of zero-emission (0.0%)
◎
Chemical substance management
Reduction of the emission of substances subject to PRTR by 1%
Emission to the atmosphere: Increase by 5.9%
☓
Unified control by a chemical substance management system
Compliance to environment-related regulations
Application for low-volume new products
◎
Raw material and product control by a chemical substance management system
- SDS preparation support
- System improvement
◎
Crisis management
Absence due to Personal Injury:0
Leave due to accident: 0 case
◎
Strengthening of disaster prevention system based on risk management
Near-Injury:Reduction to half compared to the year before (not more than 3)
No leave after accident: 13cases (increased from the previous FY by 6 cases)
☓
Strengthening pollution prevention monitoring (environment-related complaint 0)
Environment-related complaint: 1 case (±0 compared to the previous FY)
△
Provision of an emergency response manual
Review of the existing manual and implementation of training (at each base)
◎
Other
Improving the level of internal audit
- Setting priority audit items
- Raise the precaution level
○
Improving the level of internal auditors
Promotion of digital manifests
Digitalization has been applied to some bases
○
Promotion of digital manifests
Utilization of e-learning on environmental education
Education materials such as "Water Contamination Prevention Law" are prepared
○
Improvement of environmental awareness through education
Calculation range: Harima Chemical and Harima M.I.D.
*

Zero emissions: The concept proposed by the United Nations University that aims to formulate a new resource-circulating society by utilizing every waste product from one industry for a raw material in another and reduce every kind of waste to zero. Harima Chemicals strives for "reducing the landfill ratio of general and industrial waste generated from business establishments to 1% or less of the total amount."
Operations
In operating the environmental management system, we have established the "PDCA cycle" based on our environmental policy, objectives and goals. We strive for continuous improvement of the cycle and reduction of environmental loads.
During the annual Environment Month in June, we host the "Presentations on Environmental Objectives and Goals" to report our achievement status. Presented projects and examples are shared on our intranet for future reference.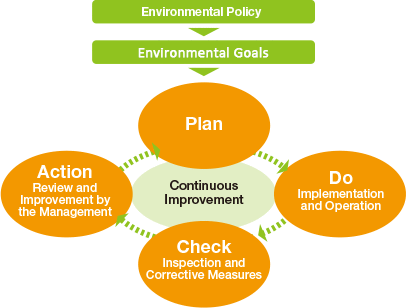 Dealing with Conflict Minerals
Inhumane actions against the public and environmental damage by the armed forces are significant problems in the Democratic Republic of the Congo and surrounding countries. Funds generated from the illegal mining of conflict minerals including tantalum, tin, gold and tungsten are used by these armed forces. In response, companies using conflict minerals should thoroughly trace and audit their supply.
Harima Chemicals Group have investigated our historic and current supplies and verified that minerals mined in conflict areas are not included in our raw materials. We will continue our investigation and verification of minerals when employing new raw materials sources and strengthen our initiatives.
Expanded the Bases that Obtained
ISO14001 Certification
To voluntarily proceed with and continually improve efforts on environmental conservation, Harima Chemicals Group has been promoting obtaining ISO14001 certification.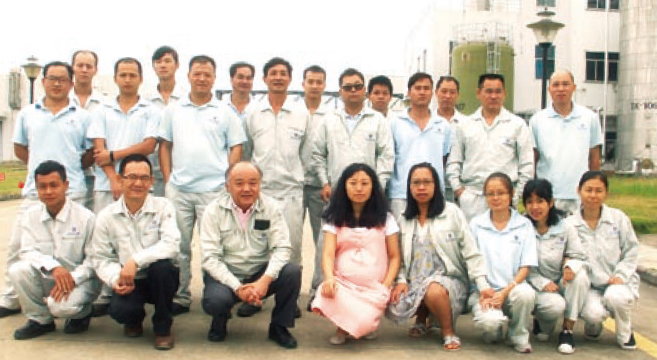 Dongguan Hanghua Harima Paper Chemicals Co., Ltd. obtained ISO14001 certification in November 2016 and so did Harima Chemicals' Hokkaido Plant and Sales Office in July 2017.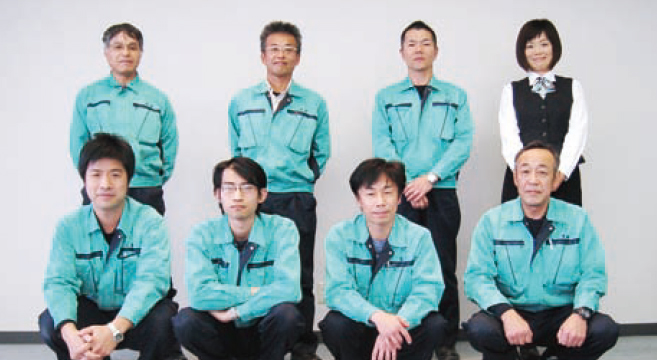 Efforts Made by the Consolidated Subsidiaries
From China
Hangzhou Hanghua Harima Chemical Co., Ltd.
Education to Employees
To secure the safety of their employees, the company obtained OHSAS 18001 (Occupational Health and Safety Assessment Series). Based on this system, they have been continuously reducing and managing health and safety risks by assessing the risks and managing compliance with laws and regulations.
With regard to environmental efforts, they obtained ISO14001 certification and to improve their environmental management level and respond to the strengthened exhaust gas regulations in China that are aimed at the improvement of serious air pollution, they have been raising their knowledge level toward the resolution of environmental pollution by holding study sessions on the Air Pollution Control Act, etc.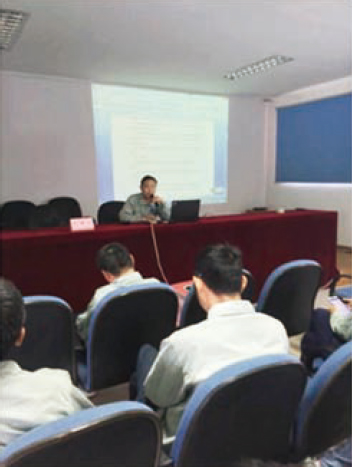 Harimatec Hangzhou Co., Ltd.
Passed the Inspection by the Xiaoshan Environmental Protection Agency in Hangzhou
The G20 Hangzhou Summit was held in Hangzuhou City, Zhejiang Province in China on September 4-5, 2016. Prior to the Summit, in order to investigate sewage from daily life, drainage water, emissions (dust), noise, etc., the Xiaoshan Environmental Protection Agency conducted on-site inspections at the manufacturing companies and companies handling hazardous materials in Xiaoshan District in Hangzhou City, where Harimatec Hangzhou is located. As a result, Harimatec Hangzhou was determined to have zero problems in any categories.

From Malaysia
Harimatec Malaysia Sdn. Bhd.
Lecture on ISO14001 was held
Universiti Teknologi MARA requested Harimatec Malaysia, which is the company that had obtained ISO14001 certification, to give a lecture on the environmental management system, and the company also accepted five students into the environmental engineering and chemistry courses.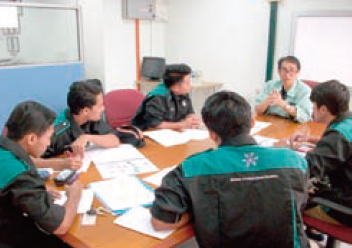 From Japan
Nippon Filler Metals, Ltd.
ISO14001: 2015 Version of Standard Certificate
The company has begun operating the environmental management system that corresponds to the ISO14001:2015 version from fiscal 2016.
The company received the transitional inspection in May 2017 and completed the transition to the 2015 version.