Environmental Management
Harima Chemicals Group, Inc. has been expanding its environmental management system under its environmental policy and based on ISO14001.
Each department and section sets annual goals to continuously reduce environmental loads and implement environmental conservation activities.
Operations
In operating the environmental management system, we have established the "PDCA cycle" based on our environmental policy and goals. We strive for continuous improvement of the cycle and reduction of environmental loads.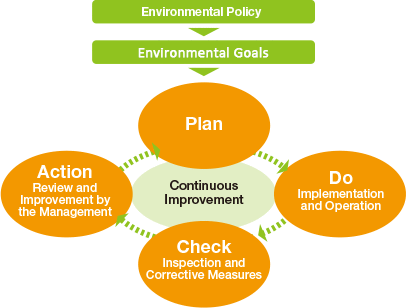 Environmental Goals and Achievements
We prepare mid-term environmental goals for each theme (currently FY2020 Environmental Goals), set specific annual objectives and promote efforts to achieve the goals.
FY2017 Achievements and the Mid-term Environmental Goals (FY2020 Environmental Goals)
Evaluation Criteria ○: Achieved ☓: Not achieved
Theme
FY2017 Goals
FY2017 Achievements
Decision
FY2020 Goals
Prevention of Global Warming
Reduction of electricity consumption by 1% compared to the year before(intensity-base)
Intensity: Reduction by 2.5%
○
Reduction of energy intensity by 1% per year
Reduction of fuel consumption by 1% compared to the year before(intensity-base)
Intensity: Reduction by 4.7%
○
Reduction of CO2 emission by 1% compared to the year before
CO2 emission: Reduction by 2.4%
○
Reduction of CO2 emission by 25% from 1990 level
Reduction of 1% in the basic unit year on year in energy consumption associated with product transfer
Intensity: Increase by 3.3%
☓
Effective use of resources
Reduction of the amount of waste generation by 4% compared to the year before(intensity-base)
Intensity: Increase by 2.2%
☓
Continue zero final landfill
Continuation of zero-emission* (0.0%)
Zero emissions (0.0%) are continuing
○
Chemical substance management
Reduction of the emission of substances subject to PRTR by 1%
Emission to the atmosphere: Reduction by 2.9%
○
Unified control by a chemical substance management system
Compliance to environment-related regulations
Application for low-volume new products
○
Raw material and product control by a chemical substance management system
- SDS preparation support
- Consideration of system update
○
Crisis management
Absence due to Personal Injury:0
Leave due to accident: 1 case
☓
Strengthening of disaster prevention system based on risk management
Near-Injury:Reduction to half compared to the year before (not more than 6)
No leave after accident: 5cases (decreased from the previous FY by 8 cases)
○
Strengthening pollution prevention monitoring (environment-related complaint 0)
Environment-related complaint: 2 case (increased from the previous FY by 1 cases)
☓
Provision of an emergency response manual
Review of the existing manual and implementation of training (at each base)
○
Other
Improving the level of internal audit
- Setting priority audit items
- Implementation of education of difference in standard revision
○
Improving the level of internal auditors
Promotion of digital manifests
Digitalization has been applied to some bases
○
Promotion of digital manifests
Utilization of e-learning on environmental education
Education materials such as "Air Pollution Control Act" are prepared
○
Improvement of environmental awareness through education
Calculation range: Harima Chemicals and Harima M.I.D.
*

Zero emissions: The concept proposed by the United Nations University that aims to formulate a new resource-circulating society by utilizing every waste product from one industry for a raw material in another and reduce every kind of waste to zero. Harima Chemicals strives for "reducing the landfill ratio of general and industrial waste generated from business establishments to 1% or less of the total amount."
ISO 14001: Transition to 2015 version of the standards
In association with the ISO14001:2015 version of the standards issued in September 2015, Harima Chemicals Group established an environment management system that complies with the 2015 version of the standards and completed the transition. We will continue to promote activities for the environment by utilizing ISO 14001.
Education for internal auditors
After the transition to the ISO 14001:2015 version of the standards, we implemented education of the difference between the current and previous standards for internal auditors, and then an internal audit was implemented by auditors with improved skills.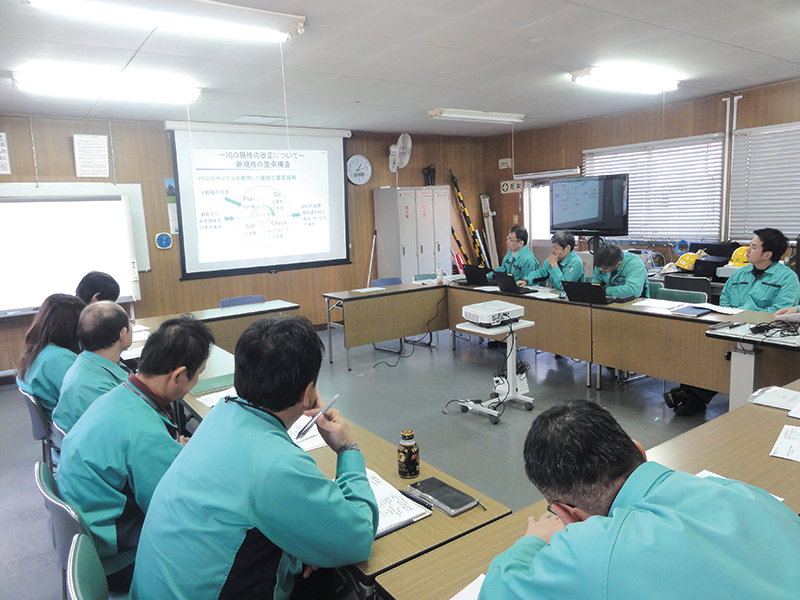 In-house study session for ISO 9001 and ISO 14001
Malaysia

Harimatec Malaysia Sdn. Bhd.

In order for employees to improve their understanding of ISO 9001 and ISO 14001, we hold in-house study sessions every year. We will also improve the awareness of employees.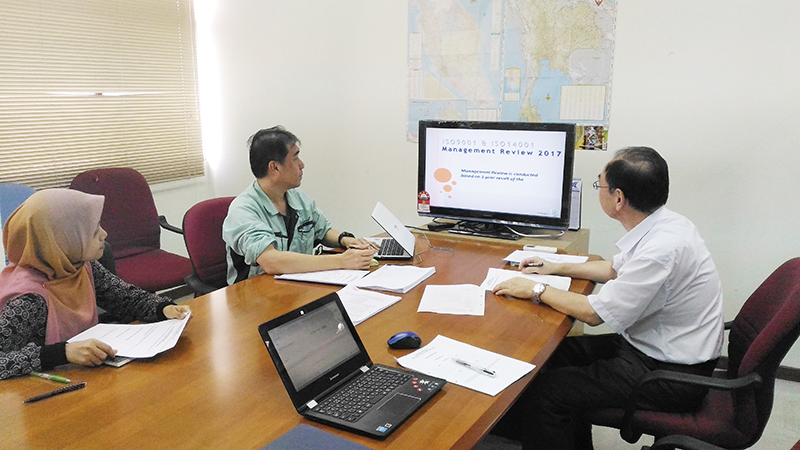 Environment education
In order for each employee to improve environmental awareness, we continuously implement environmental and awareness education via study sessions and seminars. In fiscal year 2017, we held monthly environmental study sessions, meetings to report environmental load results at plant sites, energy study sessions, and recycling study sessions.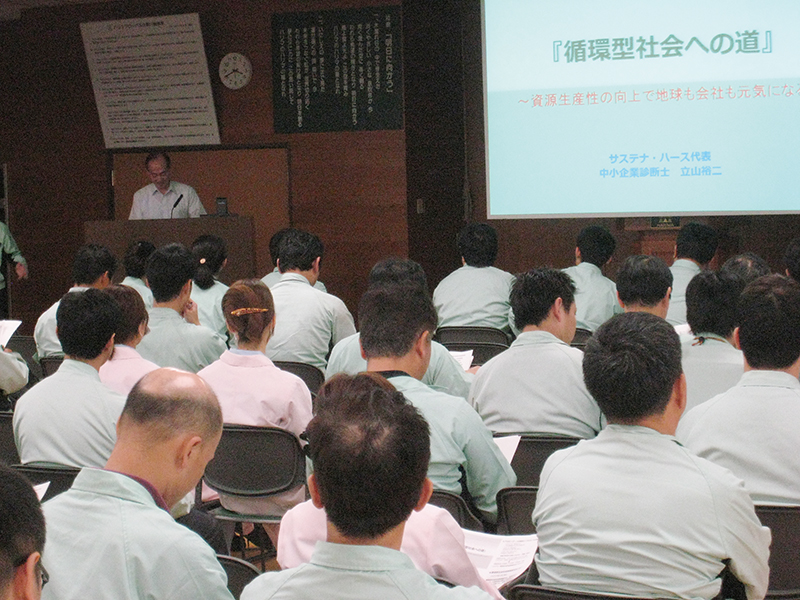 Received EHS Excellence Awards from the PCA
USA

LAWTER Baxley


USA

Plasmine Technology, Inc.

In the annual spring competition of the Pine Chemicals Association (hereinafter called the "PCA") held in Orlando, Florida, USA, on Apr. 19, 2017, the LAWTER Baxley plant received the Facility Environmental, Health and Safety (EHS) Excellence Award, and Violet, the president of Plasmine Technology, received the  Leadership EHS outstanding Excellence Award.

PCA is an organization that involves the production and consumption of useful pine chemical products, such as rosin obtained from pine, fatty acid, and turpentine oil. PCA is promoting activities in consideration of safety, the environment, and continuous development in order to stably provide high-quality products, and about 80 companies around the world are members of PCA. The Facility Award is given to a worksite where new preventive measures were positively implemented to avoid environmental destruction and industrial accidents, and the Leadership Award is given to a leader who provides a strong initiative for the promotion of EHS activities via the overall organizational power. With the award received this time, we will make efforts together to improve the performance in this field.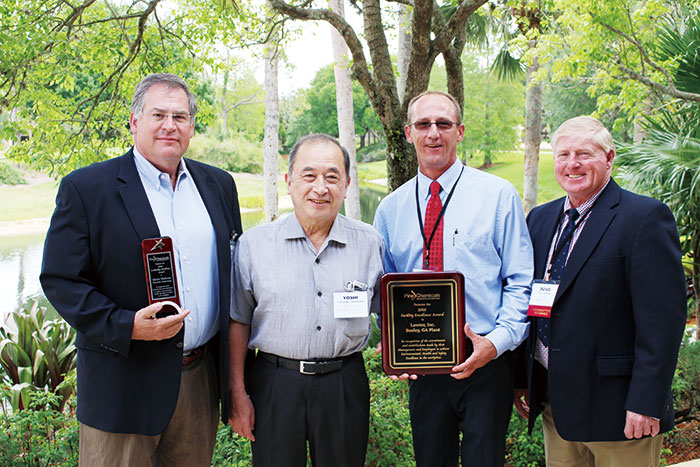 Received the environmental protection award from Xiaoshan Development Zone
China

Hangzhou Hanghua Harima Chemical Co., Ltd.

On March 23, 2018, Hangzhou Hanghua Harima Chemicals Co., Ltd., was selected as one of 11 companies demonstrating advanced environmental conservation in fiscal year 2017 at the 2018 safety fire-fighting environment conservation report meeting for the development zone hosted by the Xiaoshan Economic and Technological Development Zone Management Committee (China). This award is given to a company assessed as specially advanced in environment preservation activities . We will fulfill our obligations as a company.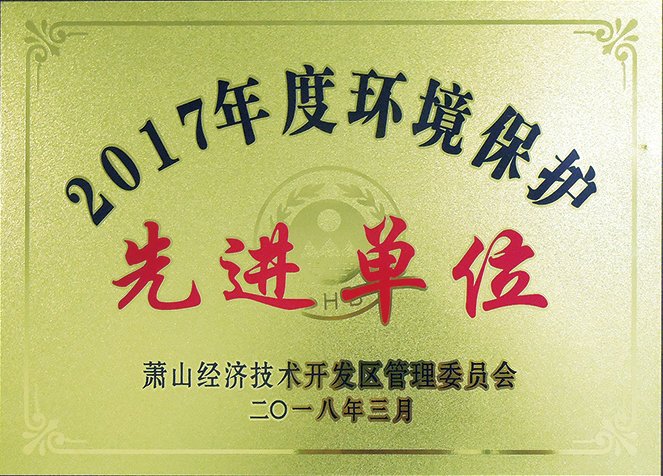 Harima Chemicals Group obtained ISO 50001 (Energy Management System) recognition
Belgium

LAWTER Kallo

On Jan. 3, 2018, LAWTER Kallo R&D and plant obtained ISO 50001 certification, an international standard for energy management system. This is the first certification obtained for the Harima Chemicals Group. With the adoption of the Paris agreement and rising worldwide concern about energy management, the demand is to reduce greenhouse effect gas emissions and energy costs, which prompted LAWTER Kallo R&D and plant to work on reductions. By obtaining of ISO 50001 certification, we will accelerate energy saving measures efficiently and effectively.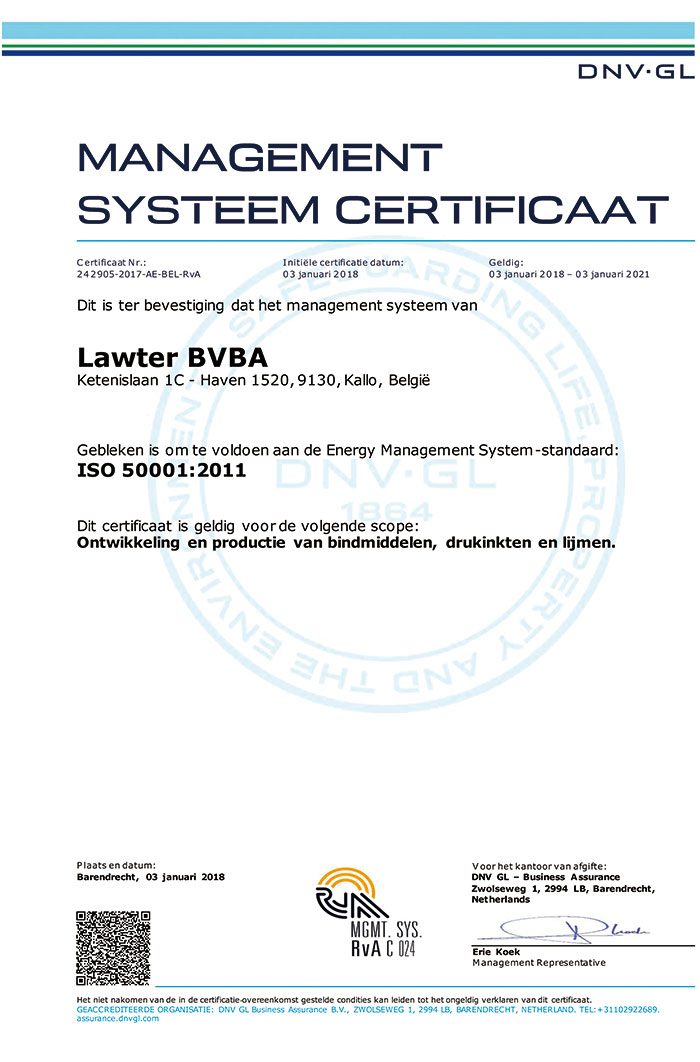 Dealing with Conflict Minerals
Inhumane actions against the public and environmental damage by the armed forces are significant problems in the Democratic Republic of the Congo and surrounding countries. Funds generated from the illegal mining of conflict minerals including tantalum, tin, gold and tungsten are used by these armed forces. In response, companies using conflict minerals should thoroughly trace and audit their supply.
Harima Chemicals Group have investigated our historic and current supplies and verified that minerals mined in conflict areas are not included in our raw materials. We will continue our investigation and verification of minerals when employing new raw materials sources and strengthen our initiatives.