R&D Overview

Based on long-term strategy, Harima's R&D objectives constantly challenge us to
pioneer new product values and rapidly transform the research results and
technology into marketable products.
We will continue to meet ever-changing market needs, always ready to challenge
new and unexplored realms with an eye on the future.
Creation of New Technology through Human Resource Development and Vitalization
Harima has successfully created a research climate that encourages originality through the development of superb human resources and corporate vitalization. A number of educational training opportunities, international exchanges, and overseas dispatch programs are in place to encourage active collaboration with authoritative research institutes both domestically and internationally. A special award system has also been initiated to recognize and reward excellent research to motivate talented researchers. Not stopping there, we promote interaction with other industries, as well as with academic, business, and governmental circles in ongoing efforts to nurture outstanding researchers who will develop the next-generation of technology.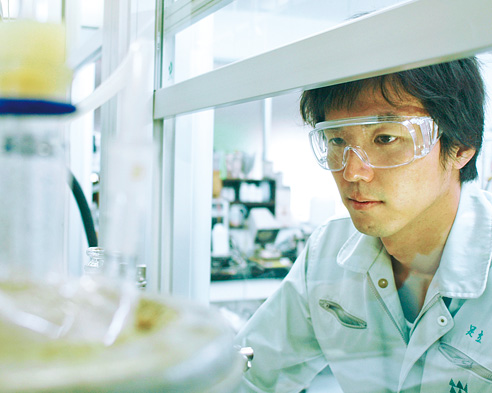 From pine chemicals to synergistic solutions
Using our proprietary functional resin synthesis technology and interface control technology as the core technologies for exploiting the properties of raw materials, we are constantly advancing the frontiers of science by establishing new synergistic solutions.